module-content
Thermoforming / Vacuum Deep-Drawing
Fast and cost-effective realisation also without painting
module-content
For more than 50 years, Hombach has been producing components
in the thermoforming/vacuum deep-drawing process
Currently, this is based on machinery including 10 thermoforming systems and maximum
casting compounds of 3000 mm x 2500 mm at a max. drawing height of 900 mm.
We particularly specialise in high quality components in smaller and medium
lot sizes ranging from palm-sized to large parts with up to 7 m² area.
module-content
THE THERMOFORMING PROCESS
Compared to many other processes, only one tool (half) is required
for production during thermoforming (vacuum deep-drawing).
In addition to some other factors, this is crucial for the production
of high-quality components (injection moulding of similar quality)
for comparatively low tool costs.
A thermoplastic plastic sheet is used as base material,
which is heated to a soft/elastic state using radiant heaters.
module-content
In this state, a tool moves towards / inside the material
and a vacuum is created between material and tool (vacuum deep-drawing).
The material solidifies through cooling and keeps the shape
even after removal of the tool.
module-content
   

Positive thermoforming
A positive thermoformed component means the "imposition" of the material across the tool, which projects over the original clamping surface. In most cases this also means that the exposed side of the final component is the side facing away from the tool.
The geometry and surface quality of the respective side not facing the tool depends on the material type, the structure of the raw material and most of all the tool geometry and the resulting stretching of the material. For this reason, completely coloured plastics are often used for positive forming, which are already formed from several layers during material production (co-extrusion), which ensure for example UV resistance, high-gloss finishes, anti-graffiti properties and much more.

For this reason, positive thermoforming is mostly used if:
High-quality high-gloss or structures surfaces are to be achieved without painting.
The inner contour of the component (tool side) is to be dimensionally clearly defined.
module-content
   Negative Thermoforming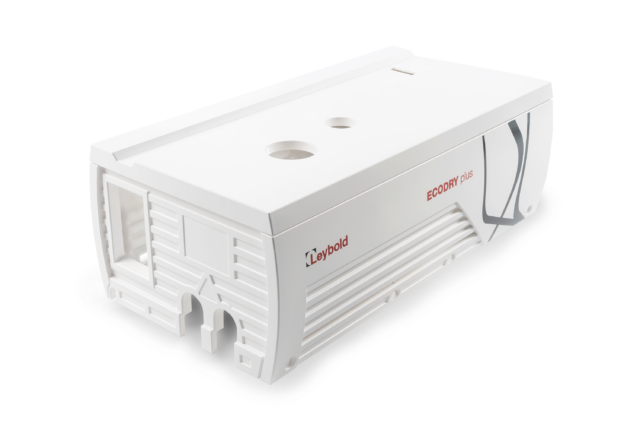 In negative vacuum deep-drawing, the material is placed over a tool cavity and sucked in. The formed side (tool side) is often the later exposed side. This means that precise contours, radii and structures can be realised.
High-quality components can be produced with low tool costs, oftentimes highly competitive with prices for injection moulding components.
For this reason, negative thermoforming is mostly used if:
External/visual contours are to be reflected with 100% definition
Geometries similar to injection moulding are to be realised
module-content
Benefits of thermoforming compared to other processes
Fast realisation times
Low tool costs (prototype materials also possible)
Broad material diversity with very different properties
Large-surface parts easily possible
High-quality surfaces possible without painting
100% recycling possible, as purely thermoplastic material
Use of multi-layer materials possible
(e.g. UV protection, chemical resistance, recycling material combinations)
module-content
Variety & know-how
Let yourself be impressed with our references in the showroom